eReader Reviews - Top 10 eReader Apps for PC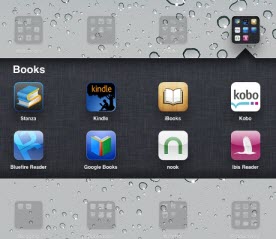 An eBook reader app is essential for eBook lovers. But it's different for reading eBooks from each retailer. Most eBook retailers have developed their own ereader apps. For example, Nook eBooks have Nook ereader app, Kobo eBooks can be read with Kobo eReader app, and Sony eBooks can be read with Sony ereader app etc. However, many eReader apps have mobile version for tablet or mobile devices only. What's the most popular eReaders for PC?
In this article, we will introduce some top ereader apps for PC users. With these eReader app, you can read eBooks on computer more conveniently and in better quality.
1. Kindle eReader App for PC
Kindle eReader App may be the most popular ereader. It is developed by Amazon company and specially for read Kindle eBooks. It's free to download everywhere now, on PC, on iOS devices or on Android devices. With a Kindle app, you don't need to buy a Kindle device to read kindle eBooks. You can buy a Kindle book once, and read it on any device with the Kindle app installed. Of course, you can also read that same Kindle book on a Kindle device if you own one. What's more, you can sync the ebooks between different devices after login your Amazon account. All bookmarks, reading progress can also be synced.
2. Sony eReader App
Sony eReader App is a kind of eBook reader developed by Sony company. It is bundled with Sony ereader if you buy a sony ereader. Consumers can buy eBooks from this eReader app library.
Formats supported: DRM free text including BBeB Book (LRF), TXT, RTF, EPUB (PRS-T1: EPUB, PDF, TXT only). And DRM-protected text: BBeB Book (LRX); ePub.
3. Adobe digital editions
Adobe digital editions is also a popular eBook reader app and manager on PC. This eReader app offers an engaging way to view and manage eBooks and other digital publications. For example, you can download the digital content directly inside the app, watch the eBooks online or offline. And you can also manager the ebooks for well use, like transfering ebooks to other devices and so on.
Adobe digital editions supports the most standard eBook formats, incluing ePub, PDF.
4. Nook App
Nook app is belong to Barnes & Noble ebook store. Users usually download Nook eReader app for reading nook ebooks. It's similar as Kindle eReader app, which can be installed on various devices and computers. By loging with your account and input the billing information, then you can sync your eBooks to any devices and read the Nook eBooks freely.
5. Kobo Reader
6. Mobi pocket reader
7. Calibre
8. Blio
9. Adobe reader
10. FBReader
Want to convert your eBooks to one of the above PC ereader apps? Just download ePubor Ultimate Converter, which supports any eReader software as output.
Buy eBook DRM Converter for Win: Buy eBook DRM Converter for Mac: