What's DRM and Why do We Need to Remove DRM?
What's DRM?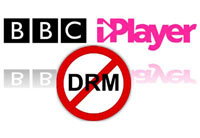 DRM is short for Digital Rights Management, which is a kind of technology used by copyright holders with the intent to control the use of digital content and devices after sale. Here we will mainly talk about the DRM on digital content, like iTunes movies, music, Medias from Windows Media Center, BBC iPlayer, Amazon, Xbox Live Store etc. DRM used for digital content this means preventing the consumer access, denying the user the ability to copy the content or converting it to other formats. But it's not accepted by most consumers who own the content. They contend that there is no evidence that DRM helps prevent copyright infringement. However it's not useful for copyright holder. And that's why the DRM removing software is so popular.
Why We Need to Remove DRM?
Take Fairplay, one of the most controversial DRM, for example. When we purchase or download videos or music from iTunes store, we own the right to play the video or music on the authorized PC or device. But we can't copy it, share it with others, and re-encode it with other codec for playing on more devices.
And the situation will be worse if we rent a movie from iTunes movie store. As we all know that you only have 30 days from the time of rental to watch your movie, and 24 hours (in the US) or 48 hours (elsewhere) after you've started viewing to finish it. Once the rental period expires, the movie will disappear from your iTunes library. It's really annoying.
Why not find a DRM removal tool to save your time and money?
How to Remove DRM on Mac OS?
Remove DRM on Mac OS with iTunes Media Converter for Mac
The iTunes Media Converter for Mac recommended on our site may be the most powerful Mac DRM removal software all over the world. It's very easy to use and work 20x faster than any other similar programs. Further more, this iTunes Media Converter supports removing DRM from iTunes HD movies as well and keep the HD quality nearly 100% preserved.
Disadvantages: Only MP4 format can be supported as output this means if you are trying convert the DRM-ed iTunes media to some devices not support MP4 format, you have to tune to some video converter tools to encode the MP4 files again.

How to Remove DRM on Windows
Remove DRM with Aimersoft DRM Media Converter
Aimersoft DRM Media Converter is a professional Windows DRM Removal software. With this all-in-one DRM killer app, you can get almost all DRM-ed videos and audios like M4V, WMV, ASF, AA, M4A, M4B, M4P, M4R downloaded or purchased from iTunes, BBC iPlayer, Xbox Live, Amazon,Audible etc.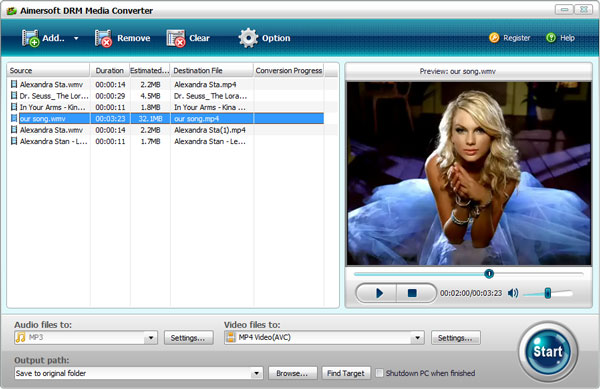 Aimersoft supports tons of video and audio formats as input and output. You can watch any DRM movies or music on the most popular mobile devices whenever and wherever.