Top DRM Removal Software for Mac Review
It's obvious that DRM is used by copyright holders to prevent consumers access the digital content with more freedom, like copying the digital content, sharing the digital content online or converting it to other formats. But many people are against DRM and say that there is no evidence proving DRM works to protect the copy right. That's why there are so many people finding DRM removal tools to get rid of the annoying DRM. In this article, we will give an objective review on some DRM removal tools for Mac users.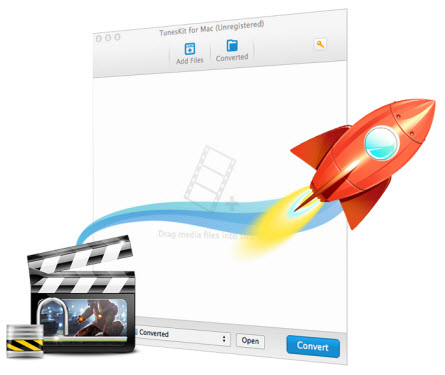 My personal view is that ViWizard DRM Media Converter for Mac may be the fastest DRM removing tool on Mac OS. The same movie in 1 hour length, you can finish removing DRM in less than 5 minutes with ViWizard, but more than 15 minutes with other similar DRM removal software. The quaility you get with ViWizard is also very great. ViWizard DRM Media Converter supports removing DRM from iTunes HD movies, and it can keep the HD quality 100% highly preserved.
DRM video supported: iTunes rented movies, TV shows, iTunes purchased movies, TV shows
Output format supported: MP4
As listed above, the disadvantage of ViWizard is that it support less output formats than other DRM removal tools. MP4 is the only format it supports.

2. Noteburner M4V Converter Plus for Mac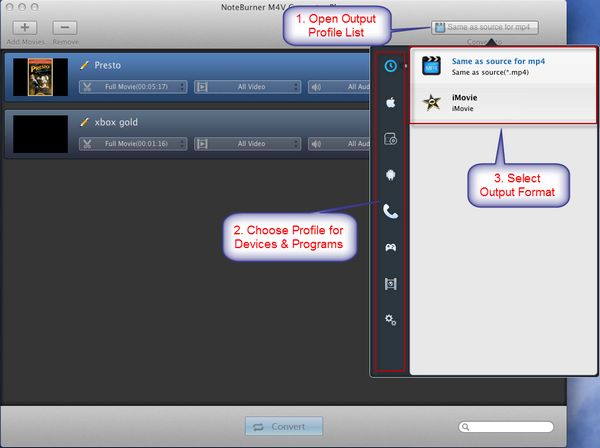 It seems Noteburner M4V Converter Plus for Mac is more powerful than ViWizard if you focuse on the output presets. Noteburner M4V Converter Plus for Mac is a professional DRM removal tool and DRM M4V converter for Mac users. With Noteburner, you can convert any DRM-ed movies or TV shows rented or purchased from iTunes movie store to any mobile devices including smartphones and tablets.
A wide range of media formats are supported by Noteburner M4V Converter Plus for Mac, like MP4, MOV, AVI, MPEG, etc.
Tech Specifications of DRM Media Converter
Supported Input Formats
DRM protected Video
M4V(iTunes Purchases and Rentals protected by DRM), common MP4 and MOV video
Supported Output Formats
Video Formats
MOV, MPG, MP4, AVI, 3GP, 3G2, FLV
Audio Formats
MP3, OGG, WAV, AAC, WMA
Supported Output Devices
Apple
iPod, iPod Nano, iPod Classic, iPod Touch, iPhone, iPhone 4/4S, iPhone 5, Apple TV 1/2
Sony
Sony PSP MPEG-4, Sony PSP MPEG-4 AVC, Sony PS3(480p), Sony PS3(720p), Sony Walkman MPEG-4, Sony Walkman MPEG-4 AVC
Microsoft
Microsoft Zune MPEG-4, Xbox 360 AVI, Microsoft Xbox MPEG-4
Creative Zen
Creative Zen X-Fi, Creative Zen Vision, Creative Zen Vision M, Creative Zen Vision W
iRiver
iRiver E10, iRiver U10, iRiver Clix, iRiver B20, iRiver X20, iRiver Clix 2, iRiver E100, iRiver Lplayer, iRiver Spinn, iRiver D28, iRiver DICPLE D30, iRiver P10, iRiver P20, iRiver PMP-120, iRiver 140, iRiver IMP-1000, iRiver 1100
Mobile Phones
Mobile Phone 3GP, Mobile Phone 3GPP2, Mobile Phone MPEG-4, Nokia N-Series
Sandisk Sansa
Sandisk Sansa AVI, Sandisk Sansa MPEG-4
BlackBerry
BlackBerry MPEG-4
Now only pay $49.95, you can get a full version of Noteburner M4V Converter Plus for Mac or ViWizard DRM Media Converter for Mac, and convert any downloaded or purchased video from iTunes to Non-Apple devices. Why not take it for a try and save your time and money with one time payment?

Related Articles
* How to remove DRM from iTunes music?
* How to remove DRM from Audiobook?
* How to remove DRM from iTunes rental videos?
* How to Remove Windows Media DRM protection?
* Best DRM Removal Freeware for iTunes videos/Musics and eBooks