Best DRM Removal Freeware - Remove DRM From Videos, eBooks, Musics
It seems the most we talked about are paid DRM remover software shareware. But for some people, they awant to find free DRM removal software even though the quality is not so good. Then what's the suggestion? In this article, we want to recommend some free DRM removal applications for users who are trying to remove DRM protection from videos, eBooks and musics.
1. Requiem - Video DRM Removal Freeware
Requiem is an excellent way to remove DRM from iTunes downloads, including iTunes movies/TV shows, music and iBooks. It can be said a FairPlay DRM removal. The first version of Requiem is released in 2008 by "Brahms". Requiem works by decrypting the iTunes configuration files that are in "/Users/Shared/SC Info", and it's different for Mac and Windows users. As Apple updated the iTunes frequently and disabled Requiem, Requiem also made changes to keep the steps.
Likes:
* It's Free
* The process is pretty self-explanatory.
* iBooks, iTunes videos and audios are supported
Dislikes: Because Apple disabled the Requiem, so it's not keep consistent with iTunes version. Sometimes, you can't use it successfully.
Recommendations of DRM Removal Shareware: ViWizard iTunes DRM Removal for Mac, Aimersoft DRM Media Converter for Windows
2. Calibre - Free eBook DRM Removal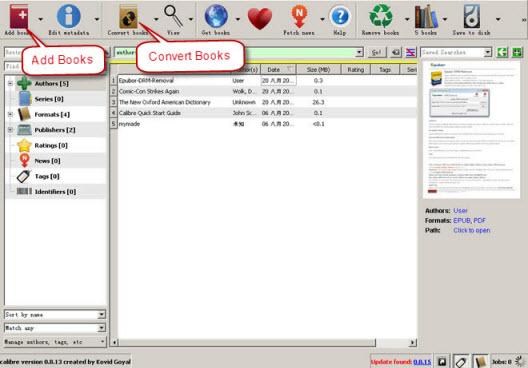 Calibre may be the easiest and cheapest way to remove DRM from eBooks, including Kindle books, Barnes and Noble, Adobe Digital Content, etc. It may be not strange for eBook lovers. Calibre is also well known as a professional eBook converter tool and a powerful eBook manager tool.
Steps of how to use Calibre free eBook DRM removal (Take Kindle eBooks for example)
* Download and install Calibre, the the plugins, and the Kindle Desktop software;
* Run Calibre and click on "Preferences.";
* Navigate to "Plugins" under the "Advanced" section;
* Click "Load Plugin from file," and select K3MobiDeDRM_v04.5_plugin.zip from the directory you just unzipped;
* Load up the Kindle app on your Mac or Windows computer and download all your books from Amazon;
* Navigate to either C:\Users\[your username]\Documents\My Kindle Content on Windows or [your username]\My Documents\My Kindle Content on Mac;
* Your books aren't named in any meaningful way, so just drag all the *.azw files into Calibre;
* After a short wait (depending on the size of your library), Calibre will finish importing the books. Now you have a DRM-free backup of all your books on your computer;
It's so easy with calibre and the DRM plugin. After all the steps finished, you can store and read the Kindle eBooks everywhere you want. Of course, the steps above also work for PDF eBooks, ePub eBooks, Nook eBooks etc.
3. myFairTunes - Remove DRM From iTunes M4P Music Free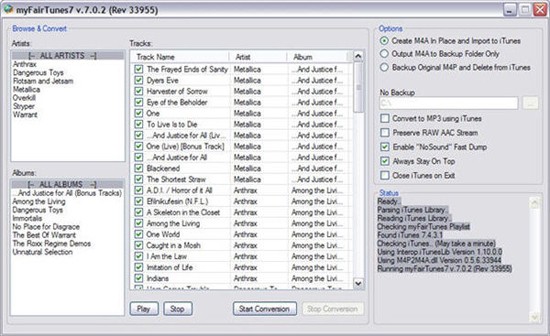 myFairiTunes is a free DRM removal application for removing songs downloaded from iTunes. Even though Apple has discarded the DRM protection from iTunes music in 2009. But for many music lovers, they may store thousands of iTunes music in their iTunes library or local computer. To listen to these musics without limitations, a music drm removal software is needed. myFairTunes is the correct one. It is very easy to use and doesn't require complex configurations.
Likes:
* It's totally free
* It will bypass the DRM protection from old purchased iTunes musics
* Easy to use and less memory needed
Dislikes:
As Apple has discarded the DRM protection for iTunes musics, there are less requirements for music DRM removal software. And myFairTunes havn't made update for a long time.
Related Articles
* Reviews of Top M4V to MP4 Converter Tools for Mac