The bug of missing video in the output files when using iTunes DRM Removal for Mac
Feedbacks from users
Q: I just purchased the product tonight and was testing it with three movies from my iTunes library but get nothing but a green screen shows when the files are converted and played using QuickTime Player. - From Liam
Q: I am trying to convert my iTunes movies into MP4 with your software and only the audio is converting, no video. Thoughts? It seems like all it is doing is extracting and compressing the audio, because the mp4 file size is 106 mb. This is a 1080p movie that is over 7 gb. - From Jon
ViWizard iTunes DRM Removal for Mac 2.0.1 Released
ViWizard iTunes DRM Removal for Mac is so hot. It attacts many consumers as soon as we listed it on our website. But problems always come with the new popular product. In the first version 1.1.8, many users send feedbacks to us which said they can't get the video in the output MP4 format, only audio track converted. How sad to hear that!
The ViWizard verdor should also receive such feedbacks and claims. They announced the version 2.0.1 release soon and also sent us OEM version. It's so sweet service.
It's said that this serious problem happened on some new Mac devices only. Apple had made some update on the Fairplay DRM algorithm for the new devices.So it's different to remove iTunes DRM on old Macs and new after 2012.
Histroy of ViWizard DRM Removal for Mac
New Release - ViWizard for Mac 1.1.8
ViWizard iTunes DRM Removal application for Mac 1.1.8 was released on July 14, 2014. With revolutionary and unique function, it attracted many attention from users and software review sites.
Main Features of ViWizard for Mac
Remove DRM Protection from iTunes purchased and rented movies/TV shows
Convert iTunes DRM M4V videos to MP4 format
Work as fast as 30x than other similar application
100% preserve the original quality, like subtitles, audio tracks and 5.1 audio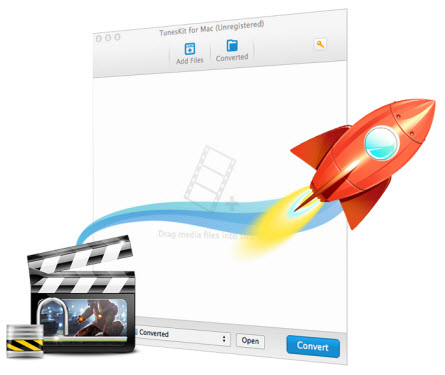 What's new in ViWizard for Mac 2.0.1
Fix the bug of missing videos on some new Mac devices
Fix the bug of conversion prograss can't be shown on Mac OS X 10.8
Opimize the product's performance and improve the conversion speed.
Fix other tiny bugs