How to Sync iTunes Music/Songs to Android Devices with iTues Match
Daniel recently changed his iPhone 4 to Samsung Galaxy S5. So he wants to move all his iTunes purchased songs to this android galaxy S5. As we all know, Apple has discarded the DRM protection on iTunes songs since 2009. So as to Daniel's issue, if his iTunes Songs are purchased recently, he can move these DRM-free music to the new Galaxy S5 directly. But if there are some songs downloaded before 2009, he has to turn to other tools for help, like iTunes Match or Aimersoft DRM Media Converter. Of course, iTunes Match is highly recommended by Apple.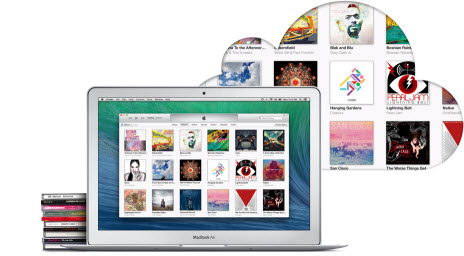 What's iTunes Match?
iTunes Match is a professional iTunes musci sync tool developed by Apple. It was launched in 2011, which is used for an annual fee. By subscribing iTunes match service, we can store and backup all our songs to iCloud, including the songs we imported from CDs or other resource that can be read by iTunes. After sync our songs via iTunes match, we can access these music on any devices like Android cell phones&tablets, Windows mobile, any MP3 players etc. And we can listen to the entire library wherever we are.
The advantage for users who subscribe the iTunes match service is that even if they stop paying for the service some day, all copies of the DRM-free AAC iTunes Store versions of tracks that have already been downloaded onto any device can be kept on any devices.
How iTunes Match Works?
Unlick Google music or Amazon cloud player, iTunes Match service don't need you to upload the music. All available audio track will be synced automatically to iCloud via iTunes Match service. All music iTunes match plays back are encoded as 256kbps AAC files with absolutely no copy protection. You can listen to all iTunes music via iCloud with very high quality, even if the source quality is in lower quality. Watch the iTunes Match video on Apple.com
Reviews for iTunes Match
Pro:
It's so easy to sync the iTunes music, even for not iTunes purchased songs or DRM encrypted ones. People can use iTunes match to sync iTunes music to any devices like Samsung Galaxy, Google nexus, HTC or any MP3 players.
Cons:
There is no stream option via a web browser. The music will be synced to the device once you play or download it. But sometimes we only want to play it, not to download it.