Apple Puts "The Interview " on iTunes Now
Introduction of "The Interview "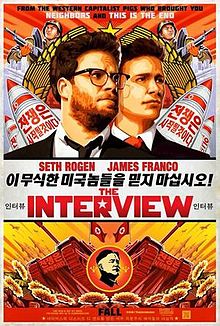 Apple finally stands up to Sony hackers and releases the 2014 American political comedy film - The Interview. This film was directed by Seth Rogen and Evan Goldberg in their second directorial work. In June 2014, the North Korean government threatened "merciless" action against the United States if the film's distributor went ahead with the release. Finally, Columbia delayed the release from October 10 to December 25, and reportedly edited the film to make it more acceptable to North Korea.
After the release of this comedy film, there were many different thoughts of " The Interview" on internet.
"This "isn't a dangerous movie," but rather "a silly one" -- while it does its best to relax you, it "deserves a sharper edge of satire" that jabs both the media's hollowness and North Korea"
- From blu-ray.com
"This is a classic "emperor-has-no-clothes situation," Emily Yoshida says; the movie just wasn't going to live up to the hype. It's bad enough to be "self-parody," and both the Asian and women characters are one-dimensional. You're not doing much to promote free speech by watching." - From The Verge
"Honestly I was very interested in watching this movie when I saw the trailer however almost 45 min into it I hadn't even cracked a smile. I expected a lot more from this film, especially being a big fan of seth and franco. This movie has a few puns here an there but overall a terrible movie, expect garbage. If it hadn't been for all the controversy surrounded around it I'm sure it would've gotten mediocre reviews all around. I honestly don't understand the 9+ stars from some reviewers, it's satire but not comedically well written in any sense. Save yourself the trouble, don't bother watching it. Seth and Franco gave a good performance but the movie had a lame plot and subpar lines." - From user reviews on imdb.com
Story Line of "The Interview"
In the action-comedy The Interview, Dave Skylark (James Franco) and his producer Aaron Rapoport (Seth Rogen) run the popular celebrity tabloid TV show "Skylark Tonight." When they discover that North Korean dictator Kim Jong-un is a fan of the show, they land an interview with him in an attempt to legitimize themselves as journalists. As Dave and Aaron prepare to travel to Pyongyang, their plans change when the CIA recruits them, perhaps the two least-qualified men imaginable, to assassinate Kim Jong-un. - Written By Sony Pictures Entertainment on imdb.com
Remove DRM Protection From iTunes Movie "The Interview"
The price for "The Interview" on iTunes is $14.99. And you can rent it with much cheaper price. However, both rental or purchased iTunes movies are copy protected by Fairplay DRM protection. It prevents us accessing the iTunes movies freely, like editing, converting or playing with Non-Apple products.
ViWizard DRM Media Converter is dedicated to crack DRM protection from both iTunes rental and purchased videos. With ViWizard iTunes DRM removal tool, we can convert the iTunes DRMed M4V videos to unprotected MP4 format with nearly 100% preserved quality. The audio tracks, subtitles and AC 3 5.1 surround can be all retained after conversion.
Related Articles
Related Articles
* How to remove DRM from iTunes music?
* How to remove DRM from Audiobook?
* How to remove DRM from iTunes rental videos?
* How to Remove Windows Media DRM protection?
* Robin Williams' Movies rank top in iTunes download chart
* Review of "How to Train Your Dragon 2"