3 Ways to Burn DRM-ed Audible AudioBook to CD
You may want to burn some valuable Audiobooks to CD for backup. In this artile, we will walk you through of how to burn Audible audiobooks to CD with some convenient ways.
Part 1. Burn DRMed Audible Audiobooks to CD with iTunes
iTunes is the primary tool recommended by Audible to burn the DRM protected Audible audiobooks to CD. Before using iTunes to burn Audible file to CD, make sure you have installed the lastest iTunes on your Mac or PC. You can download iTunes from Apple official site.
Step 1. Enter the Books manage panel.
navigate to your audiobooks in iTunes by clicking the Books icon in the ribbon in the upper left corner of iTunes. After clicking the Books icon, be sure you have My Audiobooks selected from the ribbon at the top of the screen.

Step 2. Create new playlist for the audiobook files you wish to burn to CD.
Right click at the audiobook file you wish to burn to CD, then choose "New Playlist From Selection " option. It will create a new playlist in your iTunes library and the audiobook files will be contained in that playlist.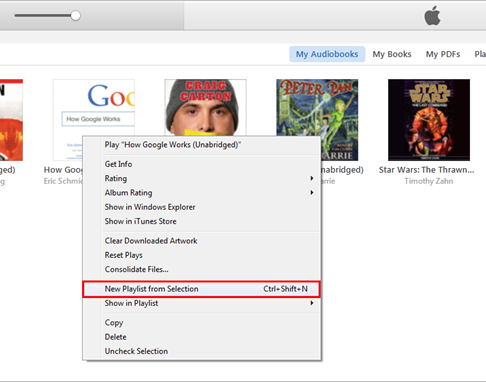 Step 3. Burn playlist to CD disc.
Right-click (CTRL+Click on Mac) on the playlist you have just created and select Burn Playlist to Disc from the list of available options. After selecting Burn Playlist to Disc, you will be presented with a pop-up message that asks you to adjust your CD burning settings.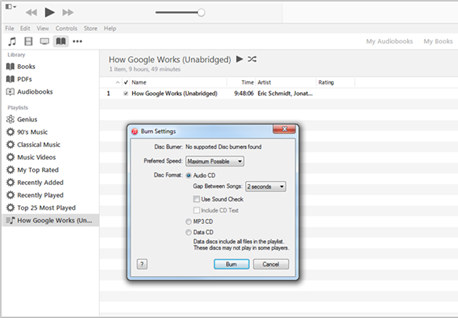 Part 2. Burn Audible audiobook to CD with Nero
We are also allowed to burn Audible audiobook content to CD disc with Nero 7 Ultra Edition , Nero 8 Ultra Edition, and Nero 9 on PC.
Step 1. Install Nero Plugin to Audible manager to burn Audible content to CD.
Download the Nero setup file and double click it to start installation. Following the setup wizard, and finish installing Nero on your PC.
Step 2. Active Nero Plugin on Audible manager.
When the installation is complete and your computer has started up again, start AudibleManager and activate the Nero plugin. Make sure that you are connected to the Internet, and click on the "Nero CD Burner" icon under Mobile Devices.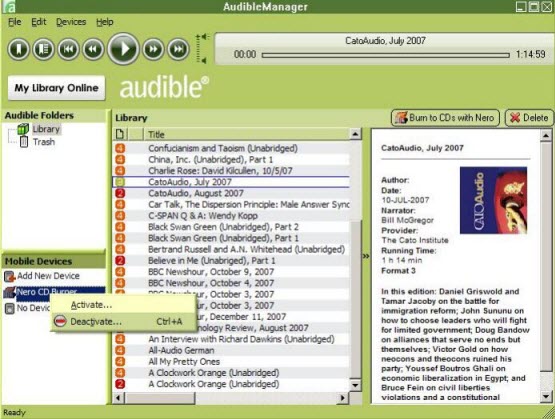 Then you can burn all audible content with Nero on your PC.
Part 3. Burn Audible audiobooks to CD after DRM removal
Many people will ask that can we burn Audible content to CD with any 3rd party software such as Windows Media Player, Roxio, RealPlayer, etc.? The answer is negative. We are unable to burn DRM protected Audible content with any other software that audible doesn't author. Other burning software can't recognize the audible audio format neither. So if you wanna to burn Audible content with Windows Media player, you have to remove the Audible DRM protection and convert AA/AAX to other audio formats, like MP3, WMA, WAV etc.
Step 1. Download and install TunesKit AudioBook Converter on your PC.
TunesKit AudioBook Converter is a professional audiobook DRM removal tool for iTunes and audible content. We can easily remove DRM protection from any iTunes and audible audiobooks and convert M4A/AA/AAX audiobooks to common MP3, WAV, WMA, AAC, FLAC formats.
Step 2.Convert Audible AA/AAX file to MP3/WMA formats
Add audiobooks you wish to burn to CD to TunesKit Audiobook Converter. Then choose output format as MP3 or WMA, click " Convert" button to start conversion.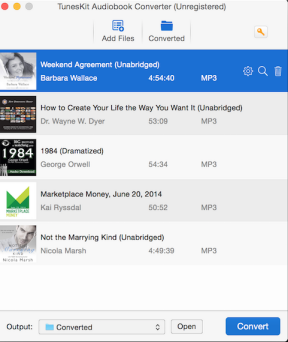 Step 3. Import converted Audiobooks to Windows Media Player and start to burn.
After converted with TunesKit, the audible audiobook format can be recognized well by WMP. You can import these audiobook files to WMP freely. And burn to CD following its wizard.
Related Articles