How to Embed DRM Protected WMV Videos on HTML
Q: I used the DRM(Digital Rights Management) key protect my WMV files. But recently, I want to make a html page with dreamweaver, and need to embed one of the DRM protected WMV files on this html page. How can I bypass the DRM protection from WMV videos? Can you please provide a sample to resolve it.
A: You are right here to resolve your problem. Aimersoft DRM Media Converter is a professional WMV DRM removal software to remove DRM protection from any kind of WMV videos, like BBC iPlayer WMV videos, Amazon Instant video WMV files and WMV videos from Windows Media Center and so on. It can easily deal with your own WMV videos and help you get rid off the DRM protection.
Windows Media DRM
Windows Media DRM, is the most usually found in WMA files and WMV videos, is not meant for the just basic sole purpose of copy-protection of Windows Media files, like WMA, WMV, AAC, but it is meant for the full digital content protection, engulfing a comprehensive wider aspects from release to end user's ways to use the content. That's why most consumers against the DRM protection.
Aimersoft DRM Media Converter comes up in the right occasion. It is powerful enough to help users remove the DRM protection from any DRMed media files including WMV, WMA, AA, iTunes M4V videos, M4P, M4A, M4B audiobooks and so on. What's further, it performs as a professional media converter to convert all DRMed media files between all popular formats and various mobile devices.

Remove DRM From WMV Videos and Embed WMV to HTML Webpage
Step 1. Add protected WMV videos to Aimersoft DRM Media Converter
Click "Add" button, and choose the protected WMV video you want to convert and click "OK" button.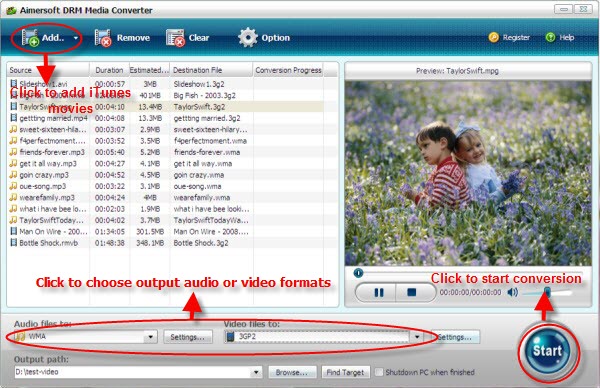 Step 2. Choose Output Format for HTML 5 Video Element
Click "Video Files to:" dropdown list, then you can choose a correct video format for compatible with HTML webpage. We will recommend you to use HTML 5 video formats including MPEG-4, WebM and OGG. All these video formats are supported in Aimersoft DRM Media Converter.
Step 3. Start Protected WMV to HTML 5 Video Conversion
Click "Start Convert" button to start converting protected WMV videos to HTML 5 video format - MPEG-4.
After conversion done, you can find the target MP4 video by clicking "Find Target" button. Now you can use the HTML 5 code to embed the DRM free video to your webpage.
Step 4. Embed Video using HTML 5 code
Example: The following HTML5 code fragment will embed a WebM video into a web page.