How to find the movie with closed captioning (CC) in iTunes store?
Most iTunes movies include closed captions. But how to identify the movies/TV shows that contain closed captioning? Here are some tips.
Step 1. Access iTunes store
Step 2. Search any movie you want to buy or rent
Step 3. Click "Movie" on the right sidebar
Step 4. Click "With Closed captioning" on the head of the search results.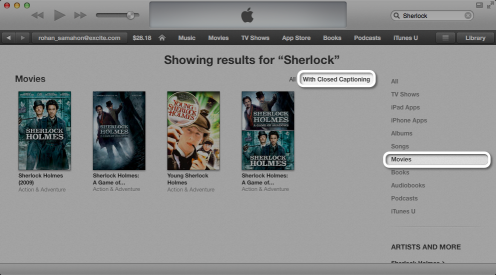 You can also click the movie movie to see the full description of the movies or TV shows. For the movies/TV shows containing closed captioning, you will find a cc logo in the next to the title of the video or in the language section.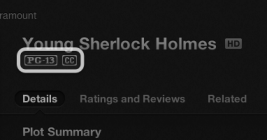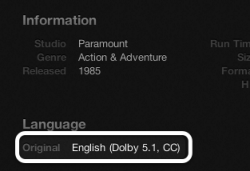 How to enable Closed captioning in different media players
Turn On Closed Captioning in iTunes
The closed captioning are turned off by default with any media players. You have to manually enable it by some settings.
To enable the closed captions in iTunes media player, just click "Control - Audio&Subtitles - CC "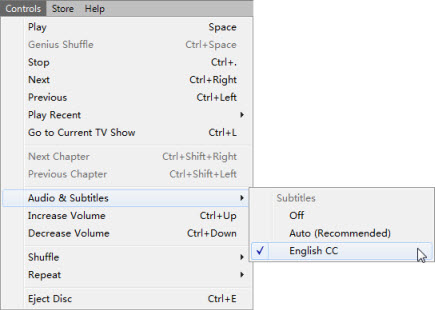 Enable Closed captions in VLC player
Many people prefer VLC media player than iTunes. VLC may be the most popular media player software for both Windows and Mac users. It's powerful enough to support all codecs and any media formats. Here are the steps on how to enable closed captioning in VLC player. Learn how to watch iTunes purchased movies in VLC player.
Step 1. Open a media file containing closed captioning information by clicking "Media," clicking "Open File," navigating to the file and double-clicking it.
Step 2. Click the "Video" - "Subtitles Track" in the menu and click "Teletext" in the list.
How to Remove DRM From Videos with Closed Captioning (CC) kept?
Are you worried about that the CC will be lost during the DRM removing process? You never need to. ViWizard iTunes DRM Media Converter can 100% preserve the original quality in the output MP4 videos.
As the world's No 1. iTunes DRM Removal application, ViWizard for Mac can easily bypass the iTunes DRM protection and convert M4V to unprotected MP4 format with fast speed and perfect quality. It will keep the multi-language audio tracks, subtitles, AC3 5.1 surround, AAC stereo Channel and Closed captions in the output MP4 videos.
If there are different CC contained in the source movie, you can manually choose the one you want by clicking settings icon and choosing your wanted CC track.