There are more and more people that don't like DRM protection. People feel disgusting about it. They are looking for ways to crack the iTunes DRM, bypass DRM protection from the digital content purchased from iTunes store, like iTunes videos, audiobooks, music or iBooks. Of course, there is always a way to get rid of the iTunes DRM. In this article, you may find a suitable way for iTunes video DRM removing.
1. Aimersoft DRM Media Converter - Removing iTunes DRM by Recording
Aimersoft DRM Media Converter is a well-known DRM media converter tool in the market. It will enable us to bypass the DRM protection from all kinds of DRMed videos and audio files, like iTunes movies, music, Amazon Videos, Amazon music and spotify, vudu movies etc. However, Aimersoft doesn't really kill the DRM protection. The core technology of this DRM Media Converter is video/audio recording technology.
For example, while you convert iTunes videos with Aimersoft, you need to install iTunes at first, and play the original iTunes videos during the conversion process all the time. Then Aimersoft DRM Media Converter tool will grab the video and audio data from the playing window. Click to learn the detailed steps on how to convert iTunes videos to wmv with Aimersoft.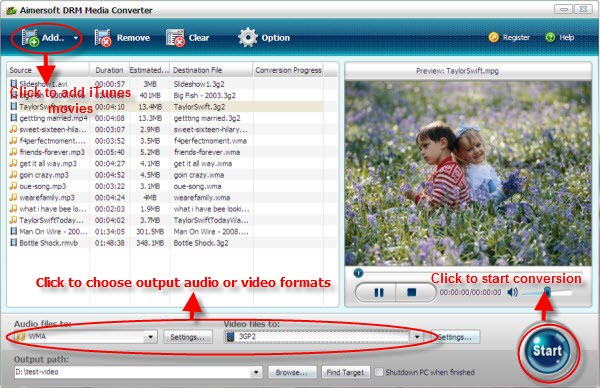 Pros: Support almost all DRMed media files from any website or online digital media store.
Cons: The output quality will be a little damaged after conversion with the video/audio recording technology.

2. TunesKit DRM Media Converter - Actually Crack iTunes DRM Protection
TunesKit DRM Media Converter is the most strongly recommended iTunes DRM removal tool via our test. It's fast, and very easy to understand. You can actually strip DRM protection from any purchased or rental iTunes movies, TV shows or music videos. TunesKit will help you convert iTunes DRM M4V videos to unprotected MP4, MOV, AVI, WMV, FLV, MKV formats to fit any Android phones and tablets or other media players. The whole process will finished with 1-2-3 clicks.
Step 1. Import iTunes movies to TunesKit DRM Media Converter
You can click "Add Files" button to select iTunes movies to import. It also supports draging and dropping DRM M4V files to the program directly.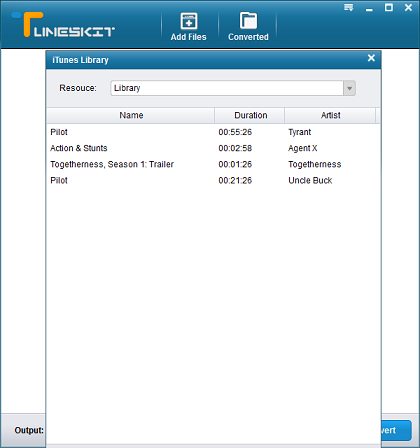 Step 2. Customize output settings for audio track, subtitles
Click 'gear' icon, you can set the audio track, subtitles for output video. It's useful if there are multi-language contained in the movie.

Step 3. Start conversion
After all set fine, you can click "Convert" button to start removing DRM protection from iTunes videos.
3. Requiem DRM Removal Freeware
Requiem is a freeware program that removes Apple's DRM (called FairPlay) from songs, videos, and books purchased on iTunes, This allows content purchased on iTunes to be played on non-Apple-approved devices, like a Samsung mobile phone or tablet. The DRM removal is a lossless process, it is merely decrypting the file, not decoding and re-encoding it. Requiem must be run on a computer that is currently authorized to play the DRM'd movie.
But many people have discarded Requiem freeware now because it doesn't support the lastest Mac OS X Sierra 10.12 and iTunes 12.5. This freeware is out of developing for many years.