How to Play iTunes Movies on TV Without Apple TV
It's an expensive way to watch your purchased or rental iTunes movies on TV with an Apple TV. However, it's a frequently way for most consumers as the iTunes movies are all DRM protected and can be only played on Apple devices. Is there any cheaper way to stream iTunes movie to TV?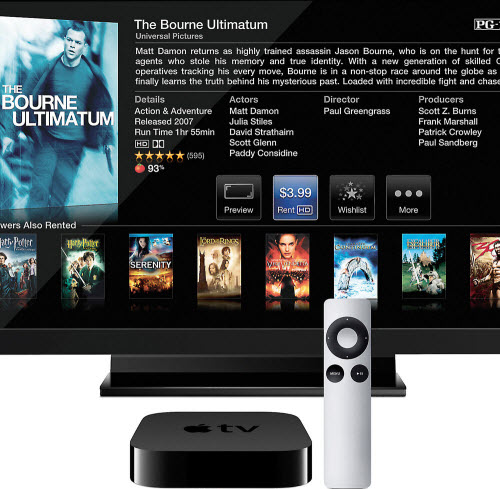 1. Watch iTunes DRM Movie via Video and Audio Cable
Connect your computer to your TV via audio and video cables. To connect audio, you simply get a Miniplug-to-RCA stereo audio cable and connect your headphone jack on your computer to the audio input on your TV or stereo (red for left and white for right audio channels). For video, if you have an S-video connection on your computer, you use an S-video cable to connect to the RCA jacks on your TV. If you have a VGA or DVI connection on your TV and your computer, you may be able to connect the display like a monitor. Of course, this method depends on the functions of your TV and computer.
2. Stream iTunes purchased/Rental Movies to TV via iPod AV Cable
You can also display the movie on TV using the iPod and either the Apple iPod AV cable or the Universal Dock with an S-video and audio cable.
3. Watch iTunes DRM Movies on TV Via HDMI Connection
If you use a computer which has a HDMI connection, then you can login your iTunes account on the computer, and, connect your computer to the TV via HDMI connection. Just play the iTunes videos on your computer, then it will be shown on the TV with original quality.
4. Burn iTunes Movies to DVD and Play it on TV via DVD Player
If you have a DVD player and like to collect DVDs. I think you will be interested in burnning the iTunes movies to DVD disc. But the problem is that you are not allowed to burn the iTunes movie to DVD directly because of the annoying DRM protection.
With TunesKit DRM Media Converter, you can remove DRM protection from iTunes movies very easily with 20x fast speed and nearly 100% original quality. It can also convert iTunes M4V video to unprotected MP4 format, then you can burn the converted MP4 video to DVD freely. Learn more about how to burn iTunes M4V to DVD.