How to Play iTunes Movies/TV Shows via Google ChromeCast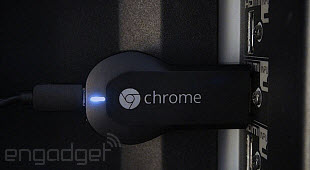 Only 2.83-inch (72 mm), the mini Chromecast is a smart media player developed by Google. The Google Chromecast can play video and audio on HD TV Set via WIFI from the network or local network. In the early version of Chromecast, it supports Youtube, Netflix, and videos/audios sold in Googleplay. People can stream these online videos to Chromecast on Android, iOS devices, computers via Chromecast-enabled mobile apps and Web apps. Is it a Google's "Apple TV"? In comparing the device to competitors, the Gizmodo said, "Chromecast isn't Google's version of Apple TV, and it's not trying to be... But Chromecast also costs a third of what those devices do, and has plenty of potential given that its SDK is just a few days old."
In the Techcrunch's review of Chromecast, it is said that "Even with a bug or two rearing its head, the Chromecast is easily worth its $35 pricetag. " From all the reviews, we can predict that Chromecast will become a popular media device in near feature.
How to Watch iTunes Movies on Hight Definition TV via Chromecast?
It's abosulutly we can't stream iTunes purchased or rented movies and TV shows to Chromecast because of the Apple's Fairplay DRM protection. As we all know, all iTunes videos are DRM protected and limited to play on Apple's devices only, like iPhone/iPad, Apple TV etc. If we need watch our iTunes movies/TV Shows via Chromecast, we have to strip the iTunes DRM at first. Here let's show you the steps on how to stream iTunes videos to Chromecast on Mac OS X.
This iTunes DRM Media Converter for Mac is the powerful DRM removal tool we recommend to you. With this powerful iTunes DRM Media Converter,you can easily remove the iTunes DRM protection and play the iTunes movies everywhere you want.

Step 1. Import iTunes M4V files to the Mac iTunes DRM removal.
Click "Add" button, then you can import the iTunes video from iTunes library directly.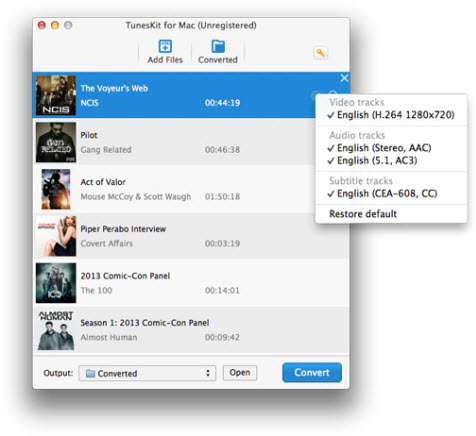 Step 2. Set output path
Click "Output" dropdown list, then choose "Change File Directory " option and set the output directory.
Step 3. Start Removing iTunes DRM protection.
Click "Start Convert" button to start stripping the iTunes DRM protection. This iTunes DRM remover software works very fast, usualy 20x faster speed to convert the iTunes movie, which means if the source movie is 1 hour, it will take only 3 minutes to convert.
After the conversion done, you can download the Google App on your devices, and stream the DRM free iTunes video to Chromecast.