iPad eReader - Read Any eBooks on iPad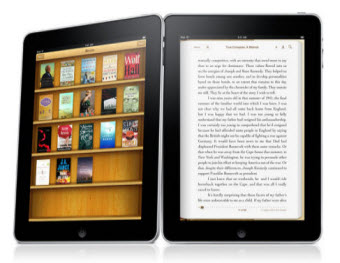 To me, iPad is the most favorite eBook reader currently. With iPad, I can read almost all kinds of eBooks freely. Most eBook retalers have released their own eReader app for iPad, that's why I can read the copy protected Kindle eBooks, Nook eBooks or Sony eBooks on iPad, let alone the eBooks from iBook store.
In this article, I want to share the steps of how to read all these DRMed eBooks on iPad. Of course, I will also share the experiences of downloading free eBooks on iPad. Then you will find that iPad is not only a perfect media player tablet, but also a professional eBook Reader for us, especially if you have an iPad mini.
Read iTunes Books (iBooks) on iPad
It's a matter of course to read iBooks on iPad. eBooks sold in iBook store are protected by Apple's Fairplay DRM technology, which allows consumers to read the iBooks on Apple's devices only. So if you are iBook lover, iPad is the best eReader to read iBooks. Learn more about iBook DRM Removal
Read Kindle eBooks on iPad
In most case, Kindle eBooks purchased from Amazon are DRM protected by Amazon DRM protection. The Kindle eBooks can also be read on some specific eReaders. However, if you can download a Kindle eReader app, you can authorized the eReader device via the Kindle App and read the Kindle eBooks freely. Learn more about Kindle eBook DRM Removal
Steps on how to read purchased Kindle eBooks on iPad
1. Download Kindle eReader App from iTunes store
2. Login Kindle APP with your Amazon account you used to buy the eBooks.
3. Download the eBooks from Kindle App.
Read Nook eBooks on iPad
Barnes & Noble company has also released their Nook eReader App for iOS devices. Even though the Nook eBooks are copy protected, you can also read the Nook eBooks on iPad easily via Nook App. Learn more about Nook eBook DRM Removal.
Download Free eBooks to iPad
Major retailers often run special sales and events with eBooks severely discounted or even free. Like me, I usually find some valuable free eBooks on iTunes and download these free eBooks to my iPad.
Free iBooks on iTunes:Run iTunes - Click "Book" menu on iTunes store, then choose "Free Books" or "Less than $3.99", you will get some free iBooks listed, and you can download these free iBooks without limitation to your iPad.
Free Kindle eBooks:We usually paid for eBooks on Amazon eBook store. But of course, the Internet is huge and there are lots of older, out-of-copyright, pre-1923 books online. For those older eBooks, Amazon usually makes them free and you can download these free Kindle eBooks as other normal eBooks to your devices. You can also sync these free eBooks to iPad via your Amazon account.
Many other websites also provide free version of those older eBooks, like archive.org, openlibrary.org, gutenberg.org, and manybooks.net.
Barnes & Noble Free eBooks: There's over a million free Nook books and free Nook apps on Barnes & Noble website. You can browse through the free Nook books by browsing through the categories or looking at them all at once to find the most popular books. Besides its official site, you can also find many free Nook eBooks from its official blog: http://www.barnesandnoble.com/nook-blog/ and Openlibrary.org, overdrive.com etc.