Nook DRM Removal - How to Remove DRM From Nook eBooks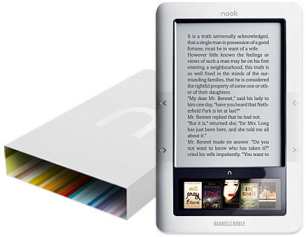 Nook which is also called Barnes & Noble Nook, is the second popular ereader in USA developed by Barnes & Noble. It's based on Android OS. Users can shop, download and read eBooks from Barnes & Noble Nook.
Most Nook eBooks are paid and DRM protected. But Barnes & Noble Nook also provides some free Nook eBooks in some catalogs. All free books downloaded from Nook Store are being synced automatically. You can read these free Nook ebooks on any of your Nook devices, like Nook simple touch, Nook Tablet or even any Android devices with nook ereader app installed. Please note that the Nook ebooks can't be read on iOS devices like iPad currently. The DRM protection attached in Nook ebooks also limits the number of device we can read the ebooks.
Can we find some Nook eBook DRM removal software to help us out of the DRM protection?
ePubor Nook eBook DRM Removal - Remove DRM from Nook Books
ePubor may be the most professional eBook DRM removal software provider on the market. The Ultimate Converter developed by this company can also perform as a powerful Nook DRM removal tool for Windows and Mac. With this Nook eBook DRM removal tool, you can crack the DRM protection from Barnes & Noble books with simple steps and convert Nook books for any popular eReaders, like iPad, Google Play, Sony eReader, Amazon Kindle.
Buy eBook DRM Converter for Win: Buy eBook DRM Converter for Mac:



Main Features of ePubor Nook DRM Removal
* Remove DRM from any kind of eBooks including Kindle eBook, iTunes iBook, Nook Book, KOBO eBooks, Sony eBooks.
* Support all common ebook formats as output: ePub, PDF, Mobi.
* Support all popular eReaders as output: iOS devices, Kindle devices, Sony eReaders, Nook eReaders.
* Modify metadata for any eBooks
* Search eBooks in any ereader's eBook library.
Knowledge of Nook eBooks
Nook eBook File Formats
The most popular eBooks formats are PDF, ePub, Mobi, AZW and TXT etc. Publishers can choose different eBook formats when they publishe their books. For different eReaders, they also supports different eBook formats. The native eBook formats for Nook simple touch and Nook tablet are ePub and PDF.
Some Free Sites to Download Free Nook eBooks
Yes, the Nook store can provide free nook ebooks for Nook users. But the disavantage of Barnes & Noble Nook eBooks is their DRM protection. For people who want to download free Nook eBooks, we also recommend these websites for you.
Project Gutenberg: The primary repository of free public domain ebooks.
Smashwords: A top place with titles from independent authors. There are around 200,000 titles in the catalog.
Other websites providing free Nook eBooks are Internet Archive, Open Library and BookRix and so on.
Nook eReader is not only a eBook reader, but also supports listenning audiobooks, music and watching videos. Learn how to transfer iTunes Audiobooks to Nook Tablet.
Related Pages:
* How to crack DRM from iBooks?
* How to Read Kindle eBooks on Google Nexus 7?
* How to Read ebooks on Samsung Galaxy S5?
* How to Remove DRM From Sony eBooks?