How to Read eBooks on Samsung Galaxy S5?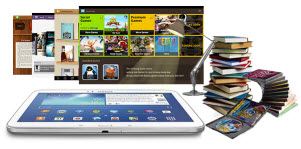 As more and more people like reading eBooks on their portable devices, and the low-cost but same powerful android devices is their primary choice, so it's urgent to provide a tutorial of reading ebook on Andorid devices for such eBook lovers.
In this article, we will take Samsung Galaxy S5 for example and guide you how to read eBooks on Samsung Galaxy S5.
About eBook Reader Apps
As we all know, each eBook retailer will provide their own eBook Reader apps for their consumers. For reading Kindle eBooks, we can download Kindle reader app on our devices. For read Nook ebooks, we can download Nook ereader app. For un-protected eBooks, we have more choices of eReader apps on Android devices, like Cool Reader, FBReader, Moon + Reader and OverDrive. All these Non-DRM protected eBook reader app supports ePub, DOC, Text, HTML, Mobi ebooks without copy protection.
Buy eBook DRM Converter for Win: Buy eBook DRM Converter for Mac:



How to Download eReader App on Samsung Galaxy S5
Most eReader Apps are available on Google play. For example, if you want to download Kindle eReader app, you can search "Kindle" on Google Play, and download it to your Samsung Galaxy S5. Of course, you can also download the Kindle eReader app from their official website via browser.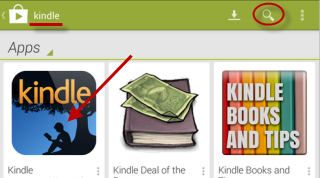 Download Kindle eReader app via browser
If you can't access the Google Play, then you can choose to download Kindle ereader app via browser. Here below are the details.
Step 1. Launch browser and search "Kindle for android apk download" on Google.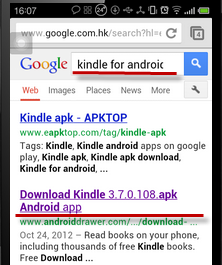 Step 2. Click Download button to start download the Kindle eReader APK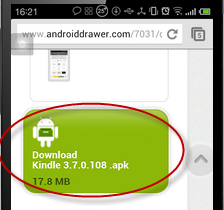 Step 3. Tap the downloaded file after download finished
Sync eBook to Kindle App on Samsung Galaxy S5
After installed the Kindle eReader App on your Samsung Galaxy S5, you can register the eReader app with your Amazon account which you used to purchase eBooks, then all your eBooks will be synced to the eReader on Samsung Galaxy S5 automatically. And you can also purchase more eBooks on Samsung Galaxy S5 directly in the Amazon store.