Kindle DRM Removal - How to Remove DRM From Kindle eBooks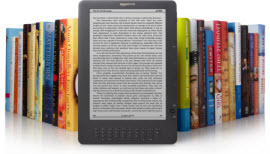 Kindle eBooks are provided by Amazon. Users who have a kindle can purchase, download and read any eBooks on their Kindle.
It's absolutly convenient and cost-effective for us to read book on Kindle device or other eBook readers like Nook, Sony Reader, Google Nexus 10, Blackberry playbook. But many people would want to know if we can transfer the eBooks between different ebooks reader devices. The truth is that we can only read the eBooks where we purchased them. For example, if we purchase the eBooks via a Kindle Fire HD, we can only read these eBooks on this Kindle. DRM protection caused this problem. The DRM technology introduced by Amazon limits us reading the eBooks on Kindle only.
Is there any way to crack the DRM protection from Kindle eBooks?
The benefits we will get after DRM removed
All the consumers will hate DRM technology. It is used by content provider and added on movies, musics and eBooks we purchased online, and prevents us reusing the content more freely. However, the priest climbs a foot, the devil climbs ten. All the DRM protection can be removed by some third party software. If you are trying remove DRM from Kinle eBooks, this eBook DRM removal software will be the suitable choice.
Once the DRM protection is removed from eBooks, we can our favorite content with our friends, families. Sometime we need to read them on computers, or sometime we will want to transfer the eBooks to other ereaders. We can do anything with the DRM-free eBooks.
Buy eBook DRM Converter for Win: Buy eBook DRM Converter for Mac:



Simple Steps on How to Remove DRM From Kindle eBooks
Step 1. Add Downloaded eBooks to eBook DRM Removal
You are need to download the Kindle eBooks on your computer before running this software. Click "Add" button, then you can choose the kindle ebooks to import. You can also use the "Search" function on the right panel and find the Kindle ebooks you want to convert.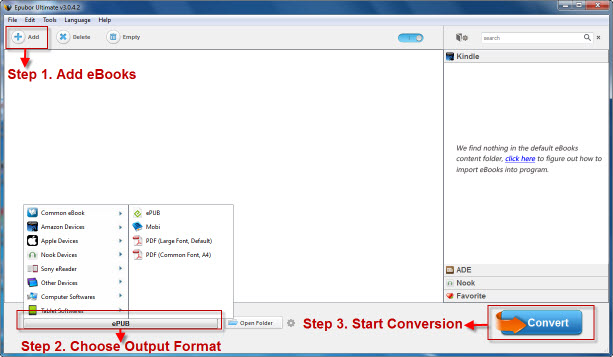 Step 2. Choose Output Format
Click "Output" dropdown list, then choose the right output format you need. The eBook Converter support almost all popular ebook formats as output. If you are trying to convert kindle ebooks to computer, you can select "common eBooks" formats, if you are trying to transfer the Kindle ebooks to other ereaders, you can select the right device listed.
Step 3. Start eBook Conversion
Click "Convert" button to start removing DRM from Kindle eBooks and converting Kindle ebooks to other format. The output eBooks are DRM free and you can share them with others without limitation.